Green Zone attack originated in Sadr City, say witnesses
Near miss of US Embassy Sunday fits pattern of conflict with Shiite militias.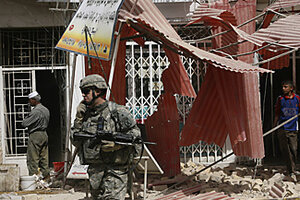 Hadi Mizban/AP
A barrage of rockets hit the Green Zone – landing near the US Embassy – in Baghdad on Sunday morning.
The rockets appear to have been fired from the Shiite militia stronghold neighborhood of Sadr City in what observers see as further evidence that a cease-fire by the group loyal to cleric Moqtada al-Sadr may be unraveling.
Most of the rockets fell "really close" to the US Embassy that's located inside the heavily protected Green Zone, according to a diplomat who spoke on condition of anonymity because he's not authorized to speak to the media about the attack.
"Yes we confirm there was an IDF (indirect fire) attack in the Green Zone. There were no dead or major casualties," said US Embassy spokesperson Mirembe Nantongo. But she gave no further details. A US military spokesman also declined to comment on the rocket attack, which is the most significant in months. Following the attack, large plumes of black smoke were seen rising from the walled Green Zone, which also houses top Iraqi government officials.
Several witnesses in Sadr City say the rockets were launched from their area.
"I was sleeping on the rooftop and at about 6 a.m. I woke up to the sound of five rockets being launched from my area," says Amir Abdullah, adding that he was certain the rockets came from a part of Sadr City known as Sector 55.
---