Basra strike against Shiite militias also about oil
Iraq's oil minister says the assault helped curb oil smuggling.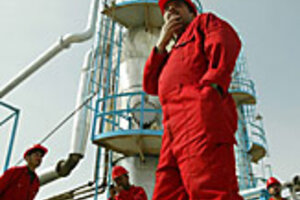 Qassem Zein/AFP/Getty Images
The recent fight in Basra between Iraqi forces and Shiite militiamen was about more than a government bid to reassert itself in a city where Moqtada al-Sadr's Mahdi Army was digging in. It was also about oil – and smuggling.
Before the assault began on March 23, the Iraqi government drew up a list of about 200 suspected oil smugglers it hoped to round up – including the brother of the governor of Basra Province and, according to Iraqi Oil Minister Hussein al-Shahristani, several leaders linked to Mr. Sadr's militia.
For the government, which relies on oil revenues to fund most of its budget, the financial stakes are immense. While there are no accurate figures, an Iraqi parliamentary committee says that losses from oil smuggling run $5 billion a year.
"We have cleansed large swaths on both sides of Shatt al-Arab that were being used to smuggle oil products and other materials," says Mr. Shahristani, who spoke during an interview at the Oil Ministry in Baghdad on Monday, describing the government achievements in Basra so far.
"Many of the gangs are colluding with local officials, powerful parties, or militias; it's a web of interrelations," he says.
Shatt al-Arab, a haven for smugglers, is the 120-mile waterway formed by the confluence of the Euphrates and Tigris rivers at Qurnah in Basra Province and runs to the Persian Gulf.
---