New Gaza tragedy threatens Cairo truce talks
Palestinian officials met in Egypt Tuesday to hammer out possible terms for a six-month truce between the Islamist militants and Israel.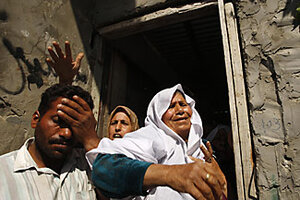 Mohammed Salem/Reuters
This much is clear: A devastating blast Monday in Gaza killed five members of the same family – a mother and four children. But whose ammunition was responsible has turned into another bitter dispute as Israeli and Palestinian officials each blame the other.
Palestinians say Israel dropped either a tank shell or a missile into the Gaza house while the family was eating breakfast. The Israeli army says the family members were killed after it fired on militants carrying munitions nearby, sparking a secondary explosion that destroyed the family's home. It says the blast was caused either by "an explosive charge" or from "explosives that members of the terror cell were carrying near the house in which there were uninvolved civilians."
Either way, the ensuing vitriol and the upsurge in violence underscores the need for a Hamas-Israeli cease-fire, yet complicates ongoing diplomatic in Egypt efforts to reach one soon.
Following what Hamas officials called a "massacre" on Monday, the group launched 11 Qassam rockets and nine mortars into Israel's Negev region Tuesday, leading to a few direct hits on homes and buildings, but no serious injuries.
Amid controversy over the deaths of Gazan mother Miyasra Abu Muatak and her four children, Israeli Prime Minister Ehud Olmert Tuesday expressed "deep remorse" for the loss of innocent life, but fundamentally blamed Hamas. He said the Palestinian group's militants were operating in civilian areas and turning residents "into an inseparable part of the war."
---