Israel's never-ending struggle for security
On May 7, Israelis began celebrating the 60th anniversary of the Jewish state. Soon, Palestinians will mark the nakba, or catastrophe. The Monitor looks, in a 2-part series, at the differing narratives of Israelis and Palestinians who lived through 1948.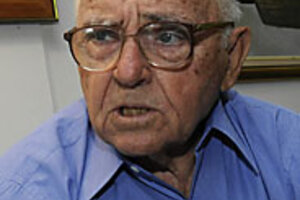 Debbie Hill/Special to the Monitor
It's a letter that Maj. Gen. Amos Horev says is one of his most telling artifact from Israel's six decades of independence. "Please give to Amos two guns and one mortar from Jerusalem," reads the note to another commander from a Jewish US Army colonel who, after World War II, came to help the Jewish army in Palestine.
To Mr. Horev, himself a leader in the army called the Hagana, Hebrew for defense, it's a reminder of how low on guns and bullets his fighters were. "The most crucial war we ever fought was the War of Independence. We asked every day, 'Are we going to make it or not?' It was a very difficult time. We didn't know if we could protect Jerusalem, where we had 100,000 people. My parents were there." That period of time was the most difficult, he says, because of a scarceness of arms. "We could hardly buy anything. We were so poor in weapons, and afterwards, we said, never again can we suffer from this kind of shortage," he says, sitting on the sofa in his home in this quiet Tel Aviv suburb he's lived in for half a century. "We felt the world had granted us a state without giving us the means to defend it."
---