In Egypt, 'dramatic' push for women's voices
At Cairo's elite American University, the Bussy Project addresses thornier issues confronting women across the Muslim world.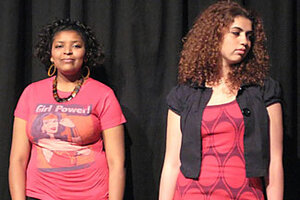 Liam Stack
A young woman stands under the spotlight inside a small theater at the elite American University, looking defiantly into the audience.
She is "Muslim Woman," one of four actresses performing a skit of the same name put on by Cairo's Bussy Project, a three-year-old troupe of playwrights-turned-anthropologists.
Project participants say they are tired of women's issues being ignored or pushed aside in Egypt, but are also upset at the way that many in the West think about Arab and Muslim women.
"I'm passive, weak, uneducated, veiled from head to toe, one of his four wives, work in the kitchen all day," says "Muslim Woman." "That's what you think, right?"
"My liberation won't come from the one who has oppressed me – bringing me democracy?" retorts her companion on the stage. "You think you're really gonna send Condi to tell me how to be free?"
Since 2006, the project – named after the Arabic command, "Look!" – has collected stories from Egyptian women about some of the country's most taboo topics, including street harassment, sexual abuse, divorce, female circumcision, and the confusion that arises in a culture that discourages male-female interaction but makes women's primary social responsibilities marriage and childbearing.
Each spring, these interviews are transformed into monologues that the group weaves together into a play.
---