Iraqi interpreters: hope rises to go to U.S.
President Bush extended a law that could give some of the thousands of interpreters working for the American military refuge in the US under a special visa program.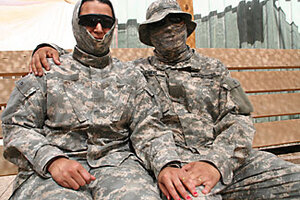 Sam Dagher
In war, love tends to blossom quickly. Just three months after Sarah and Chris met in Baghdad, they were married. Now, three years later, they hope to raise a family in America, far away from the sectarian violence and turmoil that they witness every day.
Chris and Sarah, nicknames they asked to use because of security concerns, are interpreters who work for a civil affairs unit of the United States Army. Like thousands of other Iraqi nationals working for the American military here, they have risked it all for their jobs.
Sarah says her name is on a militant hit-list. Her mother was forced to flee her own home because of death threats. Chris's parents' home was bombed twice. And he has lost 11 of his interpreter friends and colleagues since 2006.
The Shiite couple say there is even a $20,000 reward offered by militants for killing interpreters. The amount is double for female interpreters. Extremists consider it a dishonorable profession for women, says Sarah.
"We need a long time before we become a good country. We want kids but we do not want to raise them here," she says.
"It's a violent and sectarian society; I do not want my kids to grow up here," adds Chris.
Their dream of leaving Iraq appears to be more within reach.
On June 3, President Bush extended a law through 2012 that will continue to offer Iraqi and Afghan interpreters working for the military and the State Department possible entrance to the US under the Special Immigrant Visa (SIV) program. It comes after his administration has been criticized for making the process too restrictive and complicated for Iraqis working to serve the American missions.
---