Obama talks to U.S. commanders and Iraqi officials
The presidential candidate has said he will draw down troops in Iraq if elected.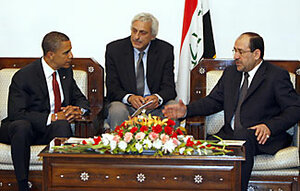 Thaier al-Sudani/AP
Following criticism from Republican presidential candidate John McCain that his rival had not spent enough time in Iraq, Democratic candidate Barack Obama made his second trip to Iraq Monday, meeting with American military commanders and upper-level Iraqi officials.
Although Senator Obama has publicly stated he will withdraw troops from Iraq within 16 months of taking office if he wins, he did not discuss this plan with Iraqi officials. During a meeting with Iraqi President Jalal Talabani, the senator emphasized that he would do his best to guarantee the security of Iraq without specifically commenting on plans to withdraw US forces, says Naseer al-Ani, a senior official in President Talabani's office who was present for the meeting.
Although Obama's and Senator McCain's proposals for Iraq appear quite different – McCain has commented that US troops could be in Iraq for the next hundred years, compared with Obama's 16-month plan – most Iraqi politicians say they are not taking sides in the election.
"The situation in Iraq is working in a good way, and this good situation is connected to the Iraqis more than the Americans. Any new American president will be looking to make the situation in Iraq better," says parliamentarian Sheikh Hameed Mullaa, a Shiite and member of the Iraqi Islamic Supreme Council.
---