Queen Rania takes to Web to break stereotypes of Arabs
Jordan's first lady launched a YouTube page in March to begin a dialogue between Arabs and Westerners.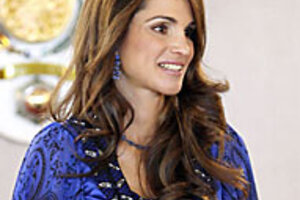 Newscom
Queen Rania Al Abdullah already had something of an Internet following for her dashing beauty. Now her majesty is leveraging her relative celebrity to shatter stereotypes about the Arab world.
With personal videos, slide shows, and documentaries, Jordan's first lady has created her own YouTube page in a virtual experiment to combat Western misconceptions about Middle Easterners.
The site mixes the humorous with the serious. In one video, a comedian says that an American once said, "Oh, you're Arab, but you look so nice," when discovering his heritage. Other videos show the real-life perils – from terrorism to human rights abuses – for people in Arab countries.
"My kids are big fans of YouTube – usually the cats on skateboard kind of clips!" Queen Rania says in an e-mail interview. "I came to realize that it's not just a great medium for skateboarding cats.... Starting an online conversation was an excellent way to reach out to a huge audience, largely youth, that I don't normally connect with."
Rania and her husband, King Abdullah II, have worked hard to position themselves in the vanguard of new Arab leaders: young, moderate, pro-Western, and technologically savvy. An international icon, the queen has become known for using her position to advocate for social causes from education for girls to an end to honor killing in Jordan.
Then in March she started the YouTube page and asked Westerners to send in their stereotypes about Arabs and Muslims and open a discussion on how those negative images could be changed. Rania's first video received 1.4 million views within weeks, prompted 83 video responses from other users, and generated nearly 6,000 text comments.
---