Strategic shift in North Africa militancy
In Algeria, suicide bombings blamed on Al Qaeda resemble insurgent tactics in Iraq.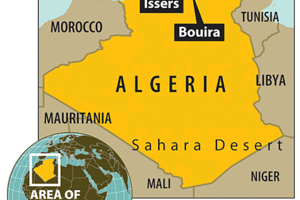 Rich Clabaugh–STAFF
A string of suicide bombings in Algeria this week has intensified concerns that the country's Islamist militancy is rising, guided by insurgents who have been trained in Iraq and are now waging their fight in North Africa.
On Tuesday and Wednesday, car bombs rocked towns near Algiers, the capital, killing at least 54 security forces and police recruits. While Al Qaeda in the Islamic Maghreb (AQIM), the home-grown group that recently allied itself with Al Qaeda, has not claimed responsibility, the bombings carried all the markings of the group, which has been responsible for some 200 deaths over the past 18 months.
This strike, unlike most, targeted security forces in the type of attack more common in Iraq than in North Africa. AQIM "wants to give young people the idea that this will be your destiny if you join their enemies, the police and security forces," says Diaa Rashwan, an expert on terrorism and political Islam at the Ahram Center for Political and Strategic Studies in Cairo.
"We are facing an extraordinary situation in Algeria, and there have been at least five attacks in the last two months aimed at police and security forces," says Mr. Rashwan.
Tuesday's bombing in Issers, 40 miles east of Algiers, killed at least 43 people outside a police academy. State media reported that most of the victims were young men and their families who were waiting to sign up for the entrance exam.
Rashwan says that Algeria hadn't ever seen that type of attack before.
---