Syria eyes an edge amid Russia-U.S. rift
Damascus is seeking an arms deal with Moscow, a move that would bolster its position in the Middle East.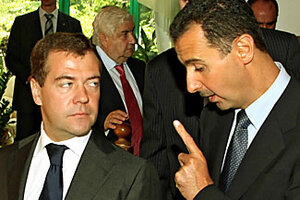 Ria Novosti/AP
When Russian forces crossed into South Ossetia and Georgia, Syria was one of the few countries to voice support for Moscow's actions in the Caucasus as the West was busy condemning the invasion.
The growing rift between Russia and the United States over Georgia promises to be a golden opportunity for Damascus as it seeks a weapons deal with Moscow – an agreement that would give it greater leverage in tentative peace talks with Israel and bolster its standing in the Middle East.
"Syria saw a lot of opportunity in what happened in Georgia and South Ossetia to advance its own interests in the [region]," says Sami Moubayed, a Syrian political analyst and historian.
Indeed, if the US-Russia rift continues to widen, Moscow could start building greater ties with Washington's Middle East foes.
---