To succeed Olmert, Israel's Mofaz opts for macho politics
But the ruling Kadima Party, which votes on a new leader Wednesday, may not buy into the former army chief's security policy.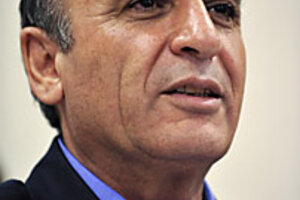 Amir Cohen/Reuters
Shaul Mofaz borrowed a paratrooper battle motto for his Kadima primary campaign to succeed Ehud Olmert as party leader and possibly prime minister: "After me!" The slogan is apt for a famed commando officer who kept his cool when trapped behind Syrian lines during the 1973 Arab-Israeli war.
As voters go to the polls Wednesday, Mr. Mofaz is hoping that his hawkish reputation and experience as army chief and defense minister responsible for quashing the Palestinian uprising will appeal to voters. He hopes to garner support from Israelis jittery about leaving threats from Iran and Gaza to untested politicians.
Currently, his rival, Foreign Minister Tzippi Livni, has a double-digit lead in the polls. If Mofaz is able to overcome that, his supporters and critics expect him to align the centrist Kadima with the right-wing security hard-liners of the opposition Likud Party.
"There are enemies that want to destroy us," he said at a meeting of party supporters in this Jerusalem suburb last week. "We need strong leadership to lead Israel to safe waters. Give your vote to the one who you believe has the courage to make decisions and the ability to carry them out."
---