U.S. Embassy hit in Yemen, raising militancy concerns
Five explosions and sniper fire struck the US compound in a coordinated attack on Wednesday.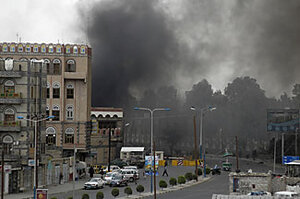 Yemen News Agency/Reuters
The blast shattered the silence here as the city slept through the early fasting hours of Ramadan. A suicide bomber exploded his car Wednesday morning outside the US embassy in the worst attack on the American compound in recent years. It comes at a time when Yemen is coping with an increasingly active Islamist militancy.
People who live near the embassy reported heavy exchanges of gunfire, and initial reports say that at least 16 people were killed, including six Yemeni soldiers and six attackers, though no official numbers have been released. Embassy officials say none of its staff were killed.
A little-known group calling itself Islamic Jihad in Yemen claimed responsibility and threatened similar strikes against the British, Saudi Arabian, and United Arab Emirates' missions in Yemen. Previous such attacks in Yemen have been claimed by Al Qaeda.
The intelligence consulting firm Stratfor said Wednesday, "the explosions and gunfire suggest that suicide bombers as well as gunmen were involved in what appears to have been a complex attack likely perpetrated by jihadists affiliated with the Yemeni node of Al Qaeda."
It says the attack will further aggravate growing tension between Washington and Sanaa over how Yemen has been handling the Islamist militancy in its country.
---