New mayor offers Jerusalem a secular turn
By defeating the ultra-Orthodox Jewish party, Nir Barkat will bring secular politics. But he will likely take a hard line with Palestinians.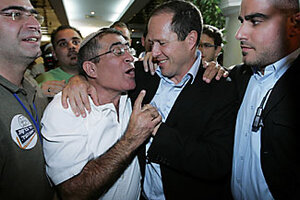 Tara Todras-Whitehill
A secular Israeli entrepreneur has won the race to serve as mayor of the holy city, wresting control from ultra-Orthodox Jewish parties and emphasizing the growing divide between Israel's secular and religious culture.
Nir Barkat, a high-tech investor, scooped up 52 percent of the vote during municipal elections, the results of which were announced early Wednesday.
Mr. Barkat's supporters heralded his victory as an important move toward returning Jerusalem to a place of diversity and tolerance. But the incoming mayor's hard-line stance against making any concessions to Palestinians about the status of East Jerusalem has many wondering what his ascent will mean for the Middle East peace process, expected to regain momentum early next year.
Until recently Rabbi Meir Porush, an ultra-Orthodox Jewish politician, looked set to trump all other candidates and take over for the outgoing mayor, Uri Lupolianski, who is also ultra-Orthodox.
"Victory belongs to all those who love and cherish this special and amazing city of ours, the Jewish people's eternal capital.... I'm aware of the depth of the challenge and the complexity of the mission," Barkat told his supporters at a speech at his headquarters, sometime after 3:00 a.m. on Wednesday. "Now is the time to work together for the good of the city."
---