Dubai's frenzied, trillion-dollar building boom falters
The global credit crunch and falling oil prices are taking a toll on the superrich Gulf emirate as developers mothball high-profile projects and lay off workers.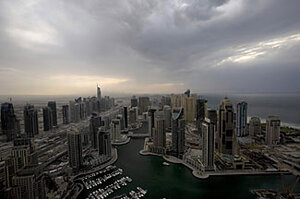 Steve Crisp/Reuters
Dubai, United Arab Emirates
A battery of fireworks marked the climax of the $20 million grand opening ceremony for the $1 billion Atlantis Hotel. Flashes of red and white illuminated dozens of construction cranes, which have become fixtures in this glittering Gulf city amid a decade-long, trillion-dollar building boom.
But the frenzied pace of development in Dubai and elsewhere in the United Arab Emirates is grinding to a halt and the over-the-top extravagance on full display late last month at places like the new Atlantis, at the tip of one of Dubai's three man-made, palm-tree shaped island archipelagos, may soon be a thing of the past.
The global financial crisis has brought construction to a stop as developers put projects on hold, lay off workers, and scale back several high-profile ventures.
And although Dubai's economy is not based on oil wealth, it's efforts to become the service hub for the Gulf region means it very well may feel the effects of falling oil prices (around $47 a barrel Wednesday) worse than its sister city, Abu Dhabi, which is cushioned by its possession of 10 percent of the world's petroleum reserves and a massive sovereign wealth fund.
The global credit crunch and investor uncertainty has led real estate prices to drop and Dubai's stock exchange to nosedive in recent weeks.
The Dubai Financial Market has lost nearly 70 percent of its value since the summer. Leading that loss have been real estate companies. Dubai's Emaar Properties, builder of the soon-to-be tallest building in the world, the Burj Dubai, has lost 75 percent of its value since January on Dubai's exchange.
---