Domestic politics fuels Gaza conflict
Israelis and Palestinians both face heated political contests that are adding to the volatility between Israel and Hamas after a six-month cease-fire broke down last week.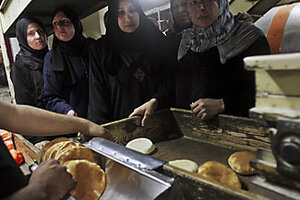 Khalil Hamra/AP
The collapse of a six-month Israel-Hamas calm last Friday unleashed a new wave of cross-border attacks and a spate of threats from leaders on both side about worsening violence. And although the Islamist militants called for a 24-hour halt in attacks on Monday for mediation, the region seems once again to be at the brink of another escalation over Gaza.
"We can't leave Gaza in Hamas's power" if the Islamist militants continue to fire missiles, said Israeli Foreign Minister Tzippi Livni, a candidate for Israel's premiership, on Sunday. Hamas spokesmen, meanwhile, have threatened to resume suicide bombings in Israeli cities if the Israeli Defense Forces (IDF) increase military operations in Gaza.
For all the bravado, the recent conflict is as much about domestic muscle flexing as it is about the balance of power between the Jewish state and Hamas, which has controlled the coastal strip since June, say both Israeli and Palestinian experts.
With Israel's parliamentary election campaign heating up and the Palestinians headed toward a new deterioration in Hamas-Fatah relations over Palestinian presidential polls, the conflict is being complicated by twin domestic political struggles.
The waves of rocket fire on southern Israeli towns – militants fired at least two dozen Kassam missiles on Sunday – highlights a failure of the current Israeli administration to protect citizens from the threat of short-range rockets. The lead headline in the Israeli newspaper Maariv claimed that one-eighth of Israeli citizens are within range of Hamas's rockets in Gaza.
---