How Hamas is altering Israeli politics
The conflict in the Gaza Strip is already having an impact on the political landscape in Israel ahead of parliamentary polls in February.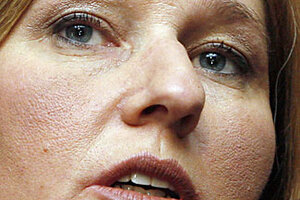 Khaled Desouki/AFP/Newscom
While war between Israel and Hamas reverberates from Gaza City to southern Israel and to Arab capitals, the fallout will also be felt within the Israeli Knesset.
The fighting is already affecting Israeli public opinion ahead of the Feb. 10 parliamentary vote: Before the offensive began polls showed conservative opposition leader Benjamin Netanyahu and his Likud party leading. But now, the hawks are losing ground and Defense Minister Ehud Barak, leader of the center-left Labor Party, and Foreign Minister Tzipi Livni of centrist Kadima are gaining.
But while it's too early to tell which politician will emerge from the high-stakes Gaza conflict with the upper hand, Israel finds itself once again at a moment of transition as a mix of war and politics promises change for the Jewish state.
"Israel often starts wars looking very good, and the end is often less clear," says Asher Arian, a political science professor at Haifa University. "The only thing that is clear is that every campaign will try to spin the outcome to their advantage."
---
Follow Stories Like This
Get the Monitor stories you care about delivered to your inbox.