What's the endgame for Israel and Hamas in Gaza?
Israeli troops moved deeper into Gaza City Sunday and pounded Rafah from the air. Hamas rejected plans for international peacekeepers in Gaza.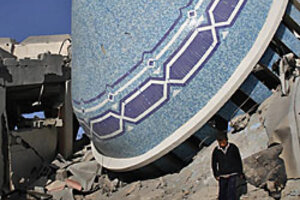 Khaled Omar
Israel and Hamas showed little interest over the weekend in moving toward an internationally brokered cease-fire, as both sides vowed to keep fighting.
As the rockets and missiles fill the skies over Gaza and southern Israel, it sharpens the question: What are the goals – and exit strategies, if any – of each side?
Within the Israeli public, there is a debate about whether the intent of the Israeli military – having already sent large numbers of tanks and ground troops into the Gaza Strip for the first time – is to occupy southern Gaza to prevent smuggling or "go all the way" and topple the Hamas government. Rule of the Gaza Strip might then be turned over to Fatah, the Palestinian party that was ousted in a Hamas military coup some 18 months ago and supports a two-state solution to the conflict.
For Hamas, there appears to be an ideal by which – as part of a cease-fire – the Palestinian militant group will be able to declare itself victorious in reaching all of its demands, including an opening of all crossings into Gaza and an end to the economic blockade enforced by Israel and others in the international community.
The distant likelihood of any of those goals being met is one of the obstacles standing in the way of either side moving with alacrity toward a cease-fire, say analysts. Both sides daily tout their achievements.
After a cabinet meeting Sunday, Israeli Prime Minister Ehud Olmert praised the troops for reaching "impressive goals ... against terror organizations in Gaza." Israelis have the patience and will to press on, he said.
---