Lieberman nod to Netanyahu tips Israel right
The controversial leader of the Yisrael Beytenu party endorsed Likud's Benjamin Netanyahu Thursday, virtually ensuring that a right-wing coalition will govern the country.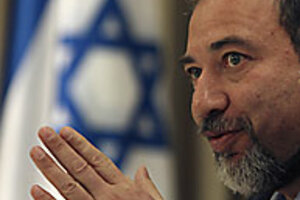 Ronen Zvulun/AP
Long disparaged as the bad boy of Israeli politics, Avigdor Lieberman has leveraged a racially divisive campaign assailing the loyalty of Israel's Arab minority to become the kingmaker of the next government.
On Thursday, Mr. Lieberman, who is leader of the right-wing Yisrael Beytenu, or "Israel Is Our Home" party, formally threw his support behind Likud leader Benjamin Netanyahu, nearly clinching his chances to lead a right-wing coalition. In return, Lieberman is seen as a candidate for one of three top cabinet posts: finance, defense, or foreign affairs.
Now, as the controversial politician prepares to shape Israeli policy, many are concerned that he could put Israel at odds with the United States and the international community.
Lieberman is relying on a career diplomat to help avoid such tensions.
"It's a challenge, there are a lot of misconceptions," said Danny Ayalon, a newly elected member of parliament for Lieberman's "Israel is our Home" party and a former ambassador to the US.
Mr. Ayalon predicts that international diplomats will give Lieberman a hearing despite all the criticism. "There is a recognition that Avigdor Lieberman is going to play a central role here, not just in Israeli politics but in Israeli foreign policy."
---