Mahaya Petrosian: Iranian actress takes a turn behind the camera
Known for a wide range of roles in 23 films, she is directing her first short film, 'A Beautiful Snowy Day.'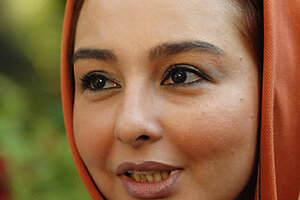 Scott Peterson/Getty Images
The Iranian movie actress can't contain her excitement about her latest project: a short film that is all her own.
"It was all on my shoulders," says the Iranian star, recalling the challenges and rush of creating "A Beautiful Snowy Day."
"I was everything: writer, director, producer, actress," enthuses Mahaya Petrosian, sitting in a coffee shop in Tehran, sunglasses with a few faux-diamond sparkles resting on the top of her head and a stylish black leather coat-manteau. "I was so tired, I became old doing this film!"
Miss Petrosian is best known in Iran for her wide range of roles in 23 movies, two TV serials, and a host of short films and stage productions. First profiled in this newspaper in 1998 as Iran's rising star, she has since been married and widowed, and now is finding new joy in her first bid as director.
She was exhilarated by 20 days of filming in a village in the snowy Alborz mountains north of Tehran earlier this year. "It is a film of a woman and her little boy, and one day of their life. It is a day of great decision," says Petrosian of the 30-minute-long project, which she is still editing.
What happens? "No, I don't tell you!" she says, feigning objection though clearly eager to share the movie's secrets.
The film includes just two actresses and two actors, as well as a 3-1/2-year-old boy she selected at a preschool. But this is not the easiest business to be in these days, even if you can call on 20 years of experience, big acting talent, and dark eyes and soft looks that have captivated audiences, even from beneath the mandatory head covering.
---