Violence is down, but many Iraqis still can't go home
Most of Iraq's internally displaced people are unable to return to their houses. The lack of basic services and an inability to rebuild their war-damaged homes keeps them away.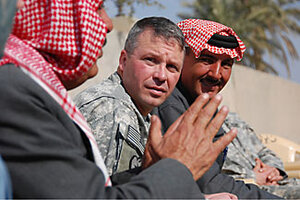 Tom A. Peter
When Sheikh Jamal Sadoun, a prominent Sunni accused of working with the US, returned to his once sprawling eight-bedroom farmhouse late last year, a pile of rubble and charred furniture was all that remained.
Members of Al Qaeda in Iraq (AQI), the home-grown Sunni insurgent group, bombed it after he and his family fled from this small farming town in Diyala Province in the middle of 2007. At the time, sectarian warfare was raging across Iraq and anyone who didn't support the insurgents' aims could find themselves in their cross hairs. "They didn't even steal anything. They just blew it all up," says Sheikh Sadoun.
Despite losing everything, Sadoun, who now lives in one room with 17 family members, is leading an effort with his brother, Waleed, to rebuild their village of Hadi Sadoun, south of the provincial capital, Baquba.
They've brought back at least 90 of the 320 families who fled the violence, but now they say the biggest obstacle is finding a way to rebuild homes and restore central services. "Now the people who are still in Baquba are staying there because we don't have services, not because of security," says Waleed.
---