Israeli town copes with return of near daily rockets
In Sderot, Purim holiday fun masks stresses of rocket attacks from Gaza militants.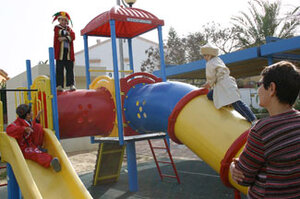 Ilene Prusher/The Christian Science Monitor
The very hour Chana Melul returned to Sderot with her three young boys, whom she'd taken on vacation up north to escape the front lines, the rockets were back.
Minutes after they set down their suitcases, a Qassam rocket launched from nearby Gaza landed about 50 yards from their apartment building. It crashed into a storage shed and blew apart the sidewalk that leads to the community center around the corner. The center includes a rocket-resistant theater, recently built to give kids and grownups living here a little stress-free entertainment.
But for Ms. Melul, a single mother, the disquiet never really goes away.
"It's always right here," she says, pointing to her head.
Melul could move elsewhere in the country, but to do so, she says, would defeat the purpose of why she moved back here just over six years ago: the support of family and the community in which she grew up. She moved away as an adult, studied special education, and then moved back when she was pregnant with the twins.
"I needed some help when they were born, and my sister was here. Rents are cheaper here, so it was just much more feasible. And apart from the problem, well, a really big problem," she says, as if to correct herself, "it's a great place to live."
That problem: Nearly two months after Israel and Hamas each declared unilateral cease-fires, they have yet to come to an official truce. The two sides communicate with the help of Egyptian negotiators, who expressed disappointment when the talks broke off last month after Israel's prime minister, Ehud Olmert, made it clear that he would not agree to a cease-fire that did not include the release of Sgt. Gilad Shalit, held by Hamas since June 2006.
---