Invited by Saddam: Iranian opposition members refuse to leave Iraq outpost
Disarmed by US forces in 2003, the 3,400 People's Mujahideen members at Camp Ashraf have been asked to leave by the Iraqi government.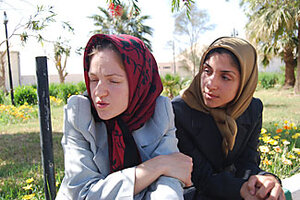 Jane Arraf
Texas-born Elham Kiamanesh seems thoroughly American, but in the last decade she's spent working to overthrow the Iranian regime, this military camp with its tree-lined avenues and flower-filled parks north of Baghdad is the only home she's known.
"You can call me Ellie, that's my nickname," says Ms. Kiamanesh as she explains why she gave up normal life and her love of children to try to topple the government of a country she's never visited.
Kiamanesh is one of some 3,400 residents, including several hundred Westerners, in the middle of one of the strangest episodes in the dramatic shift in relations between Iran, Iraq, and the United States.
In the 1980s, in the midst of Iraq's bitter eight-year-war with Iran, Saddam Hussein invited the Iranian opposition to set up military operations here. When Saddam's regime was toppled, US forces disarmed the group. In January, Camp Ashraf reverted to control by the Iraqi government, which plans to close the base as a sign of goodwill toward Iran.
Its residents – members of the People's Mujahadeen (Mujahadeen e-Khalq, known by the Farsi acronyms MEK or MKO) – are either to return to Iran or to the third countries where they have citizenship. But to the Iraqi government's consternation, they are not going willingly.
Militarily irrelevant, but still symbolic
Disarmed, Camp Ashraf has become militarily irrelevant. But as an embarrassment to both the Iranian and Iraqi governments, it still has considerable symbolic value.
---