Basra residents safer, but looking for work
Iraqi governor talks about how to revive southern Iraqi city.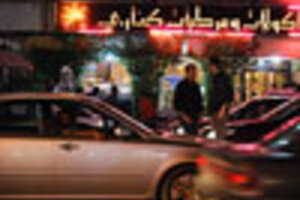 Jane Arraf
At night when Basra's upscale Algeria district comes to life, Wissam Shawal rolls out his street-corner kebab stand and shapes the ground lamb onto skewers.
"It's a temporary job," says the university graduate. But he's had it for nine years.
A year after the Iraqi Army wrested control of the city from Shiite militias, Basra provides a glimpse of what the rest of Iraq could be like minus the violence. It's also a window on the kinds of challenges still facing the country.
People don't fear to leave their homes now. Suicide bombers are almost nonexistent. Today, the more "normal" concerns of finding a decent job – or any job – have replaced security as the biggest concern in one of Iraq's largest cities.
Up until a year ago, when Iranian-backed gunmen ruled the streets, the prospect of economic recovery was almost unthinkable.
The British, in charge of Iraq's south, had withdrawn from the city under attack from Shiite leader Moqtada al-Sadr's Mahdi Army. British development officials were banned from going into Basra, even if they'd wanted to.
New governor, new vision
Now that it's secure enough to think about rebuilding this port city into Iraq's gateway to the world, the new provincial governor has big ambitions but few resources.
"We are aware that our abilities are limited. Our budget this year is one-third of what we had last year," says new governor Shiltagh Abboud Sharad.
---