Dubai's glitz lost in grim life
Migrant laborers have been hit hard since the city's construction boom came to a screeching halt.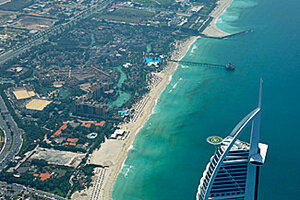 Matthias Seifert/Reuters
Dubai, United Arab Emirates
In Dubai's gritty Indian neighborhood of Karama, far from the luxury hotels and glitzy malls, laborers gather in dilapidated offices and speak of their shame.
The global economic recession and the construction slowdown have hit hard in the Middle East's most lavish metropolis. The massive construction boom of the last six years, which lured hundreds of thousands of expatriates, has come to a screeching halt.
Everyone from architects to marketing agents is losing jobs. But arguably, those suffering most are the migrant laborers who sold everything back home in India, Sri Lanka, Pakistan, or elsewhere to come make money stacking bricks, watering lawns, and cleaning floors.
"There has been a lot of press on how the recession is affecting the professional expats," notes Paul Dyer, a researcher at the Dubai School of Government. "But ... [low-skilled laborers] and their suffering have become practically invisible to us."
Gotham Lingaiah, a farmer with a fifth-grade education, says the recruiting agent who came to his Indian village two years ago promised riches in Dubai. His extended family borrowed from friends and neighbors to scrape together the 14,000 dirhams ($3,800) for secure passage, a visa, and work in Dubai. Mr. Lingaiah calculated he could repay the debt in two years and then start sending his earnings home.
When he arrived last year, however, he was sorely disappointed. Instead of earning 1,500 dirhams ($408) a month as promised, he was making 330 dirhams working long hours. But living sparingly, he sent a little money home every month.
---