Pope's urging brings Gaza blockade to forefront
With no clear guidelines for what Israel will allow in, aid groups have run into trouble with everything from 90 tons of pasta to nutritional bars mistranslated as steel bars.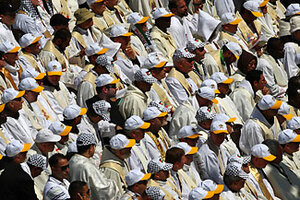 Yannis Behrakis/REUTERS
Jerusalem; and Gaza City, Gaza
Though the rockets and shells have fallen quiet in Gaza since the January war with Israel, the prices of cooking fuel and many foods have skyrocketed. Due to both the war's aftermath and the tight restrictions Israel enforces at the checkpoints on Gaza's border, many Gazans are tightening their belts – literally.
"We owe the cooking-gas man money, we had to reduce the amount of vegetables we buy, and things like meat and chicken are out of the question," says Amal Sharif, a resident of Gaza's Shati Refugee Camp and mother of 10 whose hospitalized husband is unable to support the family. "We visit supermarkets very rarely. I usually cook beans and rice and other cheap things and try to make them last over a few days."
The Israeli blockade of Gaza, which has served as a way to pressure Hamas since the militant group seized power in 2007, has until recently has been out of the international spotlight. But now it is moving to the forefront of pressing Israeli-Palestinian issues.
Pope Benedict XVI, during his visit to Bethlehem on Wednesday, specifically mentioned the plight of Gazans, telling them: "Please be assured of my solidarity with you in the immense work of rebuilding which now lies ahead and my prayers that the embargo will soon be lifted."
---