Briefing: The motives and aims of Hamas
Western nations call it a terrorist organization. To Palestinians, it's a legitimate elected government, a resistance movement, or an oppressive usurper. So just what is Hamas?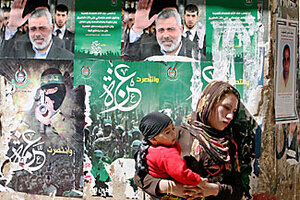 Ramzi Haidar/AFP/Getty Images
What are the origins of Hamas?
Hamas emerged as the Palestinian wing of Egypt's Muslim Brotherhood after the outbreak of the first intifada in 1987 and is the largest Palestinian militant organization. An Arabic word that means zeal or enthusiasm, Hamas is also an acronym for the group's official Arabic name, the Islamic Resistance Movement.
Its goal is to "liberate" Palestinian territories from Israeli occupation, and it has launched rockets and suicide bombers in pursuit of that end. The US, Israel, and the European Union consider it a terrorist group. But its military wing is not its only operation. Hamas also runs a large social services network and a political wing. In 2006, it participated in legislative elections for the first time and won a majority of seats, defeating Mahmoud Abbas's Fatah Party. International donors, which provide much of the Palestinian Authority's budget, cut off aid when Hamas refused to recognize Israel's right to exist.
In 2007, Hamas expelled Fatah from Gaza after a violent conflict, leaving the Palestinian territories divided, with Fatah controlling the West Bank.
What does Hamas believe?
---