Obama demands that Israel stop settlements. How feasible is that?
The US and Israel agreed this week to establish a joint committee on how to implement a freeze outlined in the 2003 road map.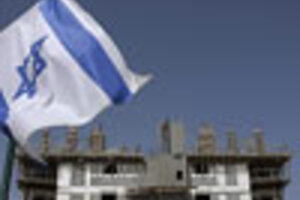 Ariel Schalit/AP
This week, US President Barack Obama conveyed a clear message to his Israeli counterpart, Benjamin Netanyahu: the expansion of Jewish settlements in the West Bank must stop.
On Thursday, Israeli police evacuated an unauthorized settlement outpost of Maoz Esther, but Israeli peace activists said the move was a public relations stunt, since no settlers live there on a permanent basis.
Amid the ebb and flow of US peace initiatives and the rise and fall Israeli governments, the unchecked growth of Israeli citizens in territories claimed by the Palestinians has been a constant. But now that there appears to be a will at the White House, is there a way to prompt Mr. Netanyahu to take his right-wing government where no Israeli prime minister has ever gone? While Israel has agreed to freeze settlement growth in the past, implementing, monitoring, and enforcing such an agreement is fraught with political and logistical difficulties.
"American presidents have tended to lack determination on the settlement question, although all seem to agree it is a major obstacle. That legacy is Obama's first challenge," says Scott Lasensky, a senior research associate at the US Institute for Peace. "The good news is that the Israeli body politic has given up on settlements, the problem being that successive Israeli governments have been unable and unwilling to stop them."
---