Ahead of Obama's Cairo speech, Arab leaders see window of opportunity for peace
King Abdullah II of Jordan, embraced by the West and his Arab allies, is emerging as a facilitator for resolving the Israeli-Palestinian conflict.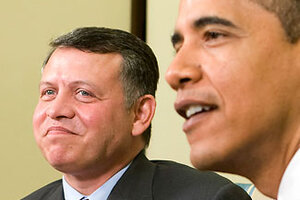 Larry Downing/REUTERS/FILE
In a major address to the Muslim world from Cairo on June 4, President Obama is expected to unveil his peace plan for the Arab-Israeli conflict.
While the details have yet to emerge, and numerous challenges remain, many Arab leaders see a window of opportunity to end the conflict after more than half a century.
"The level of optimism is pretty significant. We haven't seen this for a long time," says Mohammad al-Momani, a political science professor at Yarmouk University in Irbid, Jordan. "People believe that Obama understands that there is a need for concrete action on the Arab-Israeli conflict and that he has shown ... significant commitment to [resolving] the conflict."
One of the most prominent Arab leaders seizing this moment has been Jordan's King Abdullah II. While Egypt and Saudi Arabia – whose contacts and wealth have long made them influential – will likely preserve their traditional roles, the king is emerging as the unofficial spokesman for peace, forging ties in both the Middle East and the West.
---