High stakes in Lebanon's election
A win for Hezbollah and its allies Sunday would tip the region's balance of power toward Iran.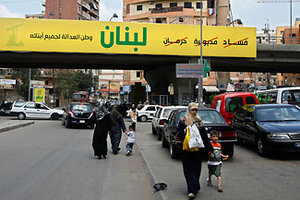 Bilal Hussein/AP/FILE
In Beirut's southern suburbs, there is a quiet confidence in the outcome of Lebanon's highly charged parliamentary elections on June 7.
Here, Hezbollah reigns. Beneath a spiderweb of illegal electricity cables, thoroughfares are lined with solemn portraits of "martyrs" – resistance fighters killed in battle against Israeli troops in south Lebanon. Huge posters cover the sides of some apartment buildings, showing stern-faced Iranian clerical leaders or the beaming visage of Sheikh Hassan Nasrallah, the charismatic and revered leader of Hezbollah.
If the polls go as many believe they could, the militant Shiite group may soon extend its dominance to Lebanon as a whole, shifting the balance of power in the Middle East toward Syria and Iran – and away from the West's allies.
It has been a remarkable journey for Hezbollah. From a small band of Iran-directed religious zealots, the group has morphed over the years. Though still backed by Iran, Hezbollah is today a sophisticated, multifaceted organization that offers a host of social services to its grass-roots constituents and fields possibly the most effective guerrilla army in the world.
Critics call it a state within a state. But on June 8, the Hezbollah-dominated opposition could find itself holding the reins of power in the Lebanese state. That would put the ruling March 14 coalition – a pro-West alliance of Sunni, Druze, and Christian parties – on the defensive.
---