Once apathetic, young Iranians now say they'll vote
Tens of thousands have rallied in favor of Ahmadinejad challenger Mousavi ahead of June 12 election.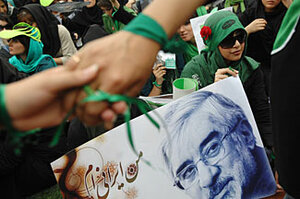 Scott Peterson/Getty Images
She did not vote in Iran's last election. Nor in the election before that. But the young Iranian law graduate, who once took pride in her distance from politics, says that Friday's presidential election is "different."
So every night for a week now, Tooska has headed out with friends after midnight and joined tens of thousands of other boisterous Iranians filling the streets of the capital to shout, honk, and chant their support for top challenger Mir Hossein Mousavi.
Tooska's decision to vote is one of a number of phenomena that are sweeping Iran during the current election, which has become a highly contested referendum on the performance of the archconservative President Mahmoud Ahmadinejad.
Rolicking in the car as it lurches forward in bumper-to-bumper traffic, Tooska lets her head scarf fall back as she explains why, this time, she is taking part. Motorcycles roar past with Mousavi posters, trailing green ribbons that mark Mr. Mousavi's "green wave" campaign, the riders hurling insults at the president.
"Like Mousavi, I feel the danger we are in," says Tooska, who asked that this pseudonym be used. The scenes on these streets were inconceivable just a few weeks ago; even those in the throng stare in disbelief, repeating that they have never witnessed such a political outpouring in Iran in their lives.
"During these four years, everyone is unsatisfied with the system [of the Islamic Republic]," says Tooska, her eyes riveted on the public party scene around her. "This time, change is necessary because [the situation] is worse than ever."
---