In Tehran, growing brutality undermines prospect for Iran-US dialogue
Protesters reported beatings and shootings near the parliament Wednesday. Regime opponents vowed to persist with protests that have deepened a cultural divide between hard-liners and more moderate reformers.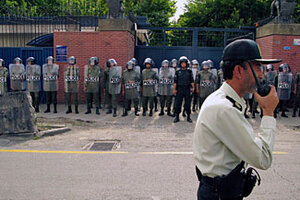 Fars News/REUTERS
Iranian security forces brutally attacked protesters in Tehran again on Wednesday, as Iran's supreme leader vowed not to compromise on the disputed June 12 reelection of President Mahmoud Ahmadinejad.
"Neither the [Islamic] system nor the people will back down under force," declared Ayatollah Sayed Ali Khamenei, adding that he would "insist" on the rule of law to halt protests that have officially cost 20 lives and shaken Iran's theocratic regime.
Supporters of defeated candidate Mir Hossein Mousavi, who claims that Mr. Ahmadinejad's landslide victory was a fraud, promise to keep up protests that have exposed rifts in the leadership and deepened a cultural divide between hard-line ideologues like Ahmadinejad, and more moderate, Western-leaning backers of Mr. Mousavi. The tension is almost certain to slow down American attempts to engage Iran in dialogue.
A witness's account
A witness interviewed by CNN described hundreds of men with clubs suddenly emerging from a mosque and charging protesters.
"They started beating everyone," the woman said in English. "They beat a woman so savagely that she was drenched in blood and her husband … just fainted…. I also saw security forces, shooting on people…. This was a massacre. They were trying to beat people so that they would die."
Deepening regime resolve is taking a toll on the protests, which last week drew hundreds of thousands of people into the streets in a show of unrest unprecedented since the 1979 Islamic revolution.
---