British Embassy row: Why Iran's hard-liners are inviting isolation
A senior cleric called Friday for British Embassy employees to be tried for allegedly inciting mass protests. The move signals a heightened effort to portray recent unrest as a foreign plot.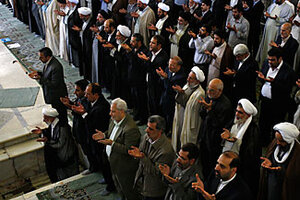 Vahid Salemi/AP
A leading Iranian cleric's call Friday for some Iranian employees of the British Embassy to be tried for allegedly inciting prodemocracy protests has ratcheted up Iran's confrontation with both global powers and the sizable proportion of its own citizenry who believe the country's June 12 presidential election was rigged in favor of incumbent Mahmoud Ahmadinejad.
In a sermon at Tehran University, Ayatollah Ahmad Jannati suggested that the mass demonstrations against the official election result – the largest since the 1979 Islamic revolution – were premeditated by foreign powers.
"[The enemy] had plotted the velvet revolution prior to the election, and even on the British foreign ministry website in March it was announced that Iran's election might be accompanied by some unrest and that British citizens were warned to be careful," he said, according to the Guardian newspaper in London. "What is the meaning of these predictions?"
---