In Palestinian town, business booms after Israel relaxes checkpoints
Nablus residents wonder whether the change means Israel is serious about peace or is simply an effort to placate the Obama administration.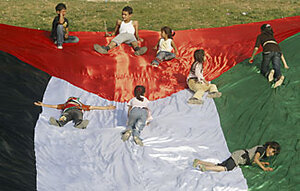 Nasser Ishtayeh/AP/FILE
The downtown streets in this Palestinian city bustle with pedestrians and echo with the bleating of taxis vying for road space.
During the recent Palestinian uprising, activity in the second-largest city and commercial capital of the West Bank was choked off by Israeli security roadblocks and frequent gunfire from roaming militant gangs. But for the first time since 2000, the Israeli military has loosened movement restrictions around Nablus, opening up the city to Palestinians around the West Bank and to Arab citizens of Israel who come to shop.
"Work is great. We have not had this amount business in years," says Hamada Abu Islam, a toy-store owner in central Nablus who attributed the change to improved local law enforcement and the easing of Israeli checkpoints near the city. "I hope it will stay this way."
While the Israeli military says the relaxation stems from better-performing Palestinian security services, the move follows weeks of an open diplomatic rift between the Jewish state and the Obama administration over West Bank settlement expansion.
---