'Change' makes inroads against Kurdistan's dominant parties
Its relative success in Saturday's regional election reflects deep popular dissatisfaction with official corruption.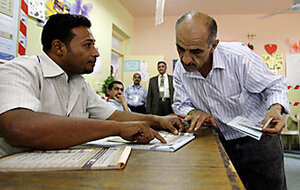 Hadi Mizban/AP
Two parties that control Iraq's semiautonomous Kurdistan faced the first serious internal challenge to their power in decades Saturday, in a regional election that underscored deep popular dissatisfaction with official corruption and autocratic behavior.
The challenge, from a new party called Goran, or Change, could tip the balance of power in the oil-rich region.
Although official results are not expected for at least a week, preliminary reports from both sides suggest that Goran is likely to have won a substantial minority of the 111-seats in the regional parliament, though probably not enough to form a government. That power will probably still go to the leading Patriotic Union of Kurdistan (PUK) and the Kurdistan Democratic Party (KDP), which have shared power of the region for 12 years and ran in this election jointly.
Goran spokesmen claim that they won 30 or more seats, which would give them substantial political clout and could allow them to make alliances with smaller parties to create a majority.
Local officials said turnout topped 78 percent, a measure of the interest Goran stirred in the electorate. During the election, the blue flags of Goran could be seen everywhere – especially in the eastern governorate of Sulaymaniyah, a PUK stronghold.
Corruption tops voters' agenda
The Obama administration and other international players have lately focused on possible violence between Kurdistan and Baghdad over disputed, oil-rich area around Kirkuk.
---