Why Iran's conservatives are airing their dirty laundry
In a striking move Tuesday, Supreme Leader Ali Khamenei personally called for a detention center to be closed, citing mistreatment, while President Ahmadinejad sanctions repressive tactics.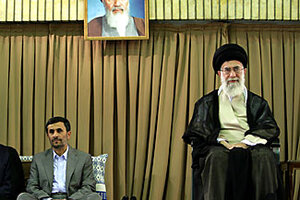 Office of the Supreme Leader/ AP/File
In the final days before President Mahmoud Ahmadinejad's inauguration next week, splits among the country's conservative elite have become increasingly conspicuous. Sometimes portrayed as a lackey for Supreme Leader Ali Khamenei, he appears to be jockeying for power and authority – publicly defying Ayatollah Khamenei, sacking his intelligence minister less than a week before his Cabinet would have been dissolved anyway, and angering fellow conservatives by pressing for the broadcast of confessions forced from political prisoners.
On Tuesday, amid growing public anger about reports of torture of political prisoners following the deaths of two young protestors in regime custody last week, Iran released 140 political prisoners. Khamenei made the striking decision to personally announce the closure of a detention center, criticizing the treatment of prisoners held there.
"At this stage, there's cleavage in every part of the government," says Haleh Esfandiari, director of the Middle East program at the Woodrow Wilson Center in Washington. "It can be seen in the Intelligence Ministry between those who say that [presidential challenger Mir Hossein Mousavi's] green movement was part of a velvet revolution and a plot to overthrow the regime, and those who argue that this is ridiculous."
---