Why Lieberman, Israel's anti-Arab leader, could resign
The controversial foreign minister promised Monday to step down if indicted on corruption charges, adding to the possibility of a shake-up in Netanyahu's government.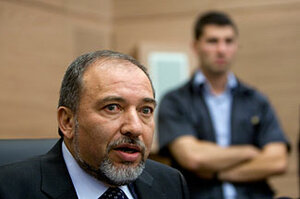 Ronen Zvulun/REUTERS
Israeli Foreign Minister Avigdor Lieberman said Monday he will resign from his position if he's indicted, a day after Israeli police recommended that he be tried for charges including bribery, money laundering, and obstruction of justice.
Mr. Lieberman's legal woes add to the possibility of a shakeup in Prime Minister Benjamin Netanyahu's coalition government, as the parliament paved the way Monday for members of the opposition Kadima party to split with leader Tzipi Livni and join the government.
Lieberman heads the ultranationalist Israel Beiteinu party, which has engendered international controversy for its anti-Arab proposals. He has been the subject of investigation by police for some 13 years, spanning back to the time when he was the chief of staff during Mr. Netanyahu's first term.
The left-wing Haaretz newspaper reported Monday that the latest investigation appears to have gained strength based in part on documents that Lieberman mistakenly left at an office and were then turned over to the attorney general.
---