Opposition skips out on Ahmadinejad's swearing-in
Leading reformist politicians signaled their intent to continue protest over what they say was a fraudulent election.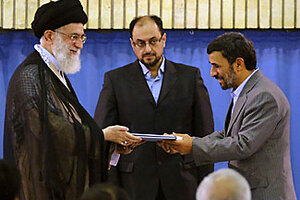 Office of the Supreme Leader/AP
President Mahmoud Ahmadinejad and Iranian Supreme Leader Ayatollah Ali Khamenei made a show of reconciliation at the new government's swearing-in ceremony Monday as leading reformist politicians stayed away, signaling their intent to continue protesting an election they allege was tainted by fraud.
Mr. Ahmadinejad's brief spat with Mr. Khamenei last week over a vice presidential appointment that Khameni vetoed has now taken a back seat to the two men's desire to hamstring the forces in Iran that are pressing for a more open system, says Fatemah Shams, a political activist and PhD candidate at Oxford University, whose husband is currently a political prisoner.
"Although Khamenei is very angry at Ahmadinejad ... they are in the same boat, so it was a superficial confrontation," she says. "They just want to mislead people ... and dissuade them from protesting."
Thousands of demonstrators took to the streets of Tehran and other cities to protest the ceremony that, in a rare exception, was not carried live by Iranian television. Maryam, a scared-sounding woman who gave only her first name, told BBC Persian over her cellphone that the security forces were in control of Tehran's main avenues and squares, and described running battles between the police and thousands of people in the side streets. She said that she had seen tear gas shot at the demonstrators, plainclothes agents chasing people into their houses, and heard shots fired skyward. Cries of "Death to the Dictator" could be heard in the background.
---