Evicted Palestinians stand their ground – on thin mattresses
Forced out of their Sheikh Jarrah homes after losing a property-rights case to Jewish families, their situation has drawn international censure.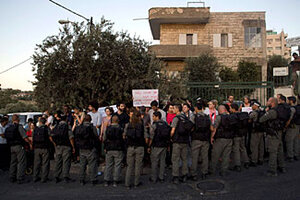 Sebastian Scheiner/AP
It was 13-year-old Diala who was awoken first, just after 5 a.m. on Sunday morning, by the commotion outside. She rushed to the window, saw special riot police in black uniforms, and ran to wake her parents.
By the time she did, the Israeli police were already breaking in through doors and windows, forcing the 17-member Hanoun family – three brothers, their wives, and children – to leave the home their relatives acquired a half-century ago. In all, 58 Palestinians were evicted in this predominantly Arab neighborhood of East Jerusalem, Sheikh Jarrah.
Though they had received – and refused to obey – a court order in May to leave after losing a longstanding dispute over property rights, it was still a shock.
"I had one shoe on and one off, and the policeman who was ordering me out tried to move aside the glass they broke to make sure that I didn't cut my feet," says Diala's mother, Nadia Hanoun. A few hours later, they stood across the street and watched as the police escorted a few families of Jewish settlers into their homes.
"He was concerned about my feet bleeding, but he doesn't see the bleeding in my heart. It's so difficult for us to see them move in people who are not from here, into our house, into the home my husband was born in, while we're on the street," says Mrs. Hanoun, sitting in the shade of a tree about 50 feet from their front door, now blocked off by a line of security barriers and several police vans with flashing lights. The family has for two nights slept on the thin mattresses piled behind her; she says they have no other place to go.
---