Young Israeli settlers go hippie? Far out, man!
Last week's annual 'End of Days' music festival highlights how a new – and militant – hilltop generation embraces the counterculture symbols of the 1960s American Left.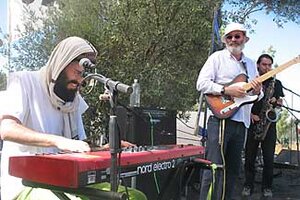 Joshua Mitnik
Situated just outside this contoversial Jewish settlement in the West Bank, the hilltop stage was dominated Thursday by a Star of David, an olive tree, and musicians who mix blues licks, reggae rhythms, and messianic refrains from Jewish liturgy.
The annual "End of Days" festival – which bills itself as a "place of light and unity, inspiration and calm" – has become something of a mini-Woodstock in the settlements, with meditation groups, religious study sessions, and a crowd dressed in colorful flowing clothes.
Staged on a wooded slope amid the ruins of Mesuot Yitzhak, a Jewish settlement captured by Jordan in the 1948 Arab-Israeli war, the festival is evidence of how the young hilltop generation, despite a reputation for militancy and ideological fervency, has embraced many of the counterculture symbols of the 1960s American Left.
"When whole world turns on the television, what do they see? Fighting and politics," says Yehuda Leuchter, the festival founder who hops as he plays keyboard with his head wrapped in prayer shawl. "We're trying to bring rock 'n' roll and good vibes for the Land of Israel and for the whole world. That's what this is all about."
In addition to roots and folk music, the young settlers have pushed heavily into organic agriculture and eco-awareness, and dabbled in Asian accessories and philosophies. While they are more worldly than parents who had no Internet access when they established the settlements, they are less pragmatic and potentially more rebellious against the state.
---