Turkey offers water for Iraqi crackdown on Kurdish rebels
Seeking to expand its role on the Mideast stage, it promised Tuesday to send more water to drought-stricken Iraq, which faces its lowest harvest in a decade.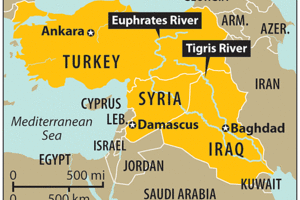 Rich Clabaugh/Staff
Turkey, which is seeking an expanded role on the Mideast stage, says it is a forging a new model of cooperation with Iraq.
After talks in Baghdad, Turkey pledged Tuesday to release more water from the Euphrates River to its drought-ravaged neighbor. Iraq, meanwhile, has announced plans to crack down on Kurdish rebels on the Turkish border.
Iraqi Foreign Minister Hoshyar Zebari said at a joint press conference with his Turkish counterpart Tuesday after talks in Baghdad that there was a "genuine and sincere desire to solve the water crisis." He said they planned to reactivate a mechanism dealing with water distribution between Iraq, Syria, and Turkey, which share the Tigris and Euphrates rivers.
"The suffering of the farmers in any region of Iraq is the suffering of the Turkish farmers themselves," Turkish Foreign Minister Ahmet Davutoglu told reporters on his first official visit since taking the post in May. He said Turkey had increased the amount of water it was releasing from the Euphrates River to Syria and Iraq over the past three months and planned to increase that amount further. He said Turkey would also help with technology that would increase the amount of Iraq's usable water.
---