Mubarak meets Obama to patch up US-Egypt relationship
The Egyptian president hopes Obama will back away from Bush's push for reform, which caused a rift between the two nations.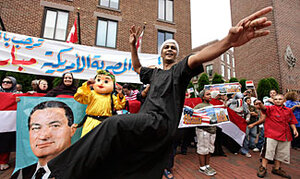 J. Scott Applewhite/AP
Until five years ago, it was an annual tradition: every spring Egyptian President Hosni Mubarak would travel to Washington to meet his American counterpart, congressional leaders, and a few newspaper editorial boards.
Mr. Mubarak usually sat down with public affairs talk show host Charlie Rose, where the authoritarian military man would invariably grow testy after a half-hour of Mr. Rose's persistent questioning.
"It was like his annual pilgrimage," says Khalil Al-Anani, an analyst with the Al Ahram Center for Political and Strategic Studies.
Then came Sept. 11, the war on terror, and a pronounced chilling of the US-Egypt relationship.
Now, with Mubarak in Washington for the first time in five years, Egyptian media are hailing a new era of bilateral harmony between the world's sole superpower and the country struggling to remain the Middle East's political linchpin. He is expected to meet President Barack Obama on Tuesday morning.
Mubarak's pitch? A continuation of America's hands-off policy and the US aid that has helped keep this impoverished nation afloat since the 1978 Camp David Accords in exchange for assisting the Israeli-Palestinian peace process. Egypt receives $2 billion in direct US aid annually, second only to Israel.
---