Ahmadinejad's new cabinet: more conservative than ever
Former British ambassador to Iran suggests ways to negotiate over nuclear policy.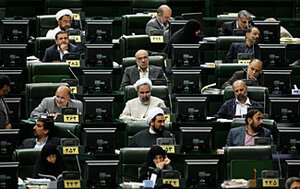 Vahid Salemi/AP
Iranian President Mahmoud Ahmadinejad's cabinet nominations, scheduled for a parliamentary vote this Wednesday, reveal a shift towards figures suspicious of the outside world, including some associated with the Revolutionary Guard, a paramilitary group charged with protecting Iran's Islamic revolution from threats at home and abroad.
Perhaps most indicative of a pugnacious stance towards the outside world is Mr. Ahmadinejad's choice of Ahmad Vahidi as defense minister. Mr. Vahidi is a former leader of the Quds Force, a Revolutionary Guard unit that has helped arm and train militant groups outside Iran. He is wanted by Interpol for his alleged role in the 1994 bombing of a Jewish cultural center in Argentina that killed 85 people.
Ahmadinejad's choice for interior minister, Mostafa Mohammad Najjar, is a Revolutionary Guard veteran, and Heydar Moslehi, his choice for intelligence minister, has worked closely with the basiji, the civilian militia supervised by the Revolutionary Guard that was used to smash postelection protests.
---