Why Jews see racism in Israel
Ethiopian immigrants say the refusal of schools to integrate their children is part of a pattern of discrimination that has diluted the idealism that drew them in the first place.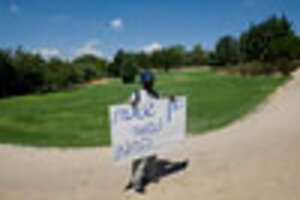 Ronen Zvulun/ Reuters
On the eve of the Israeli school year's start on Tuesday, recent Ethiopian immigrant Ayenew Belay didn't know whether his 7-year-old son Avi would be starting first grade.
Government officials had asked several private religious schools, which are publicly subsidized, to accept about 100 children of Ethiopian Jews – some of whom would be well behind their peers in language, religious studies, and other areas. The schools informed their parents, including Mr. Belay, that the children could not be integrated into regular classes until they caught up, but offered separate "preparatory" classes.
"I bought my son a backpack. He's seen the school," said Belay at a demonstration Monday outside of the Petach Tikvah municipality building. "But they won't accept the boy.... It's because he's black."
While the Israeli Education Ministry struck an 11th-hour deal with three religious elementary schools to allow 30 students to be integrated, activists say the incident is likely to leave an enduring mark on the community's children. Many Ethiopian Jews see the schools' actions as symptomatic of persistent racial discrimination, a phenomenon that has diluted the powerful idealism that drew many to the Jewish state.
Prime Minister Benjamin Netanyahu characterized the refusal of admission as a "moral attack," using a word often used to describe terrorist strikes. President Shimon Peres said it was a national "disgrace."
---