For Egypt's Christians, pig cull has lasting effects
Reacting to swine flu by slaughtering pigs, Cairo upends a key part of its service economy – Christian trash collectors.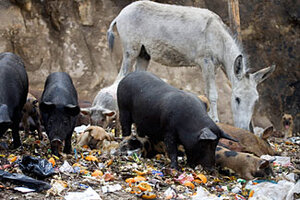 Khaled Desouki/AFP/GEtty Images/Newsom
Semaan Khalil sits with his children on the rocky earth outside their cement apartment block in Zarayeb, a Cairo slum that Egypt's zebaleen – Christian trash collectors – call home. Every day his family sorts piles of garbage under the scorching sun, and all around them neighbors do the same.
Mr. Khalil's next-door neighbor, Barsoum Qadees, overturns a giant trash bag, sending a cascade of plastic bottles, cardboard boxes, and empty tuna cans spilling onto the pavement. As the refuse crashes at their feet, Khalil's children laugh and compete with each other over who can pick out bits of plastic the fastest. For them garbage seems like a game, but to Khalil and Mr. Qadees it is a serious business, their sole means of support.
The zebaleen occupy a place both on the margins of Egyptian society and at its heart. Scorned for their desperate poverty, the perceived dirtiness of their work, and their Christian faith in a Muslim country, their services are Cairo's primary means of waste disposal. Without zebaleen like Khalil and Qadees – and the pigs that they have long employed to gobble the organic refuse – this city of 18 million would be buried in trash.
That's become all too clear this summer as a recent government decision upending the zebaleen system has forced many to toss garbage into empty alleys and vacant lots.
In May, because of fears of swine flu, Egyptian authorities ordered all of the nation's 300,000 pigs slaughtered.
---