Why is Israel now quiet over Iran sanctions?
After last week's call for 'crippling sanctions' against Iran, Israel has adopted an 'eloquent silence' on the issue while it waits to see how Thursday's historic nuclear talks go.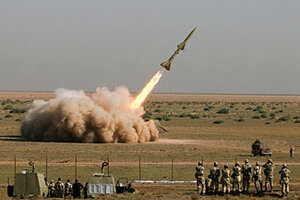 Ali Shayegan/Fars News/REUTERS
A curious thing happened on the way to the meeting that Middle East analysts and nuclear weapons-watchers have all been waiting for: Israel dialed down its rhetoric against Iran.
On Thursday, officials from the Islamic Republic of Iran will meet in Geneva with officials from the US and other UN Security Council members to discuss Iran's nuclear program. Iran acknowledged last week that it has been building a second, heretofore secret uranium enrichment facility burrowed in the mountains near the holy city of Qom.
Israel, which considers itself the foremost target of an Iranian nuclear weapon, has been at the forefront of an international campaign for hard-hitting sanctions against Tehran if it doesn't accede to a more transparent monitoring regime. Israel has hinted that if it reaches the end of its diplomatic rope it may launch an attack on one or more of Iran's nuclear sites, just as Israel struck at the Osirak site in Iraq in 1981.
---