Israel and Hamas deal: 20 prisoners for a video of Shalit
Israel has agreed to release 20 female Palestinian prisoners in exchange for a video of Cpl. Gilad Shalit, who is being held in Gaza.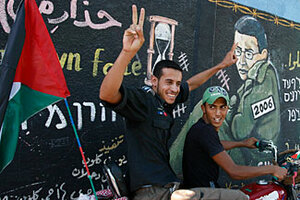 Hatem Moussa/AP
Israel said it will release 20 female Palestinian prisoners Friday in return for a video of a soldier held by Hamas in the Gaza Strip for more than three years, calling it a confidence building measure ahead of "decisive" negotiations on a prisoner exchange.
"It is important that the entire world know that Gilad Shalit is alive and well and that Hamas is responsible for his well-being and fate," read a statement from the office of Israeli Prime Minister Benjamin Netanyahu.
A masked spokesman from Hamas's military wing confirmed the deal during a hastily called news conference in Gaza.
The announcement marks the first tangible sign of progress in drawn-out talks to free Israeli Defense Forces Cpl. Gilad Shalit in return for hundreds of Palestinian prisoners, many of whom were convicted of participating in attacks on Israeli civilians. The abduction of Shalit in June 2006 and the failure of the sides to reach a deal has contributed to instability along the Gazan-Israeli border, where a war erupted earlier this year for several weeks.
"It will help bring down the tension between Israelis and Palestinians and open the door to talks about a [cease-fire] rather than conflict," says Mohammed Dajani, a political science professor at Al Quds University in Jerusalem. "It will facilitate getting back to the peace table."
---