Palestinians outraged over Abbas bowing to Israel, US
The Palestinian Authority's decision to postpone a vote on the Goldstone report last week is the last straw for many, sparking protests in the West Bank and Gaza.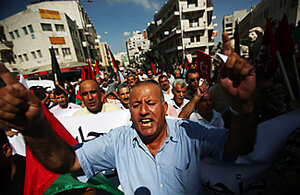 Muhammed Muheisen / AP
Demonstrators descended Monday on this city's most famous traffic circle, Manara Square, which for years was a launching point of Palestinian protests against the Israeli occupation.
This time, however, the demonstrators were directing their ire against Palestinian Authority President Mahmoud Abbas. Local leaders bellowed into the flag-waving crowd, accusing Mr. Abbas of capitulating to US and Israeli pressure. While frustration has been building for several weeks, the catalyst was the PA's decision late last week to delay a vote on the Goldstone report, the most comprehensive international investigation to date of Israeli conduct in the devastating Gaza war.
"This report was an opportunity to expose Israel's behavior," says protestor Omar Mansour, who traveled from Jenin to participate. "This postponement is embarrassing not just for Palestinians, but for everyone in the world who tried to help us attain justice. Even worse, the PA leadership put itself in this position at a time when there are no negotiations to save."
While the demonstration was small – several hundred men and women participated – Abbas faces a serious threat to his credibility and to his ability to enforce public compliance with any promises Palestinian negotiators make in renewed talks with Israel. Mr. Abbas's decision to ask the Palestinian Authority to delay a United Nations Human Rights Council vote on the recommendations of the Goldstone report has sparked widespread anger in the West Bank and Gaza.
---