NYT reporter David Rohde's kidnapping account: Lessons for Afghanistan policymakers?
New York Times reporter Davide Rohde has recounted his seven months held captive by a Taliban group in Afghanistan, and argues that convincing Taliban militants to make peace with the US and Kabul will be a tall order.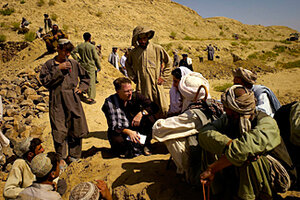 Tomas Munita for The New York Times/handout/REUTERS/File
A New York Times series detailing reporter David Rohde's seven-month captivity with the Taliban does not hold many surprises for close followers of the movement. But it could impact the debate over the scope of the war in Afghanistan.
Some policymakers hoping to craft an exit strategy have pinned hopes on a political settlement with some Taliban groups that would separate many of their fighters from Al Qaeda and other "irreconcilable" groups. A senior Western diplomat said a key element to the success of the new war strategy proposed by US General Stanley McChrystal, the commander of NATO forces in Afghanistan, will be convincing some insurgent groups to come in out of the cold.
"We need to identify the leaders who can be flipped," he said, "and then give them a reason to flip by showing them it will benefit them and their followers."
Underpinning that approach is a belief that many Taliban are motivated by group interests and nationalism, not idealistic religious goals. But Mr. Rohde argues against seeing at least one of the Taliban factions as a nationalist force. He said his seven months held captive by the Haqqani network, a hardline Taliban group that has been involved in suicide bombings in both Afghanistan and Pakistan, convinced him that many fighters and commanders are deeply intertwined with Al Qaeda and its vision of global jihad.
---