Baghdad bombings: Iraqis at the scene blame political parties
Sunday's suicide bombings, which killed more than 130 people and wounding almost 600, targeted government ministries in what authorities say is a bid to disrupt upcoming parliamentary elections.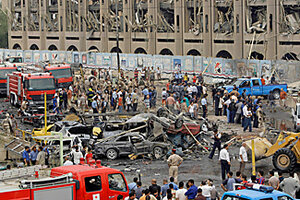 Hadi Mizban/AP
Iraqis at the site of the latest suicide car bombings on Sunday said they believed that political parties were responsible for the twin attacks on government ministries.
The mangled remnants of cars were flung blocks away by the force of two car bombs that hit almost simultaneously mid-morning on a workday outside the Baghdad governorate offices and the Justice Ministry, killing more than 130 people and wounding almost 600. The explosion blew out the windows of a major hotel used by foreigners and foreign embassies.
Several hours after the attack, the streets were still flooded with pools of water and blood while emergency workers used cranes to search the destroyed ministries for remains of the victims.
"This is all from the political parties – they want to gain seats in the election," said Abbas Fadhil, a street vendor who arrived on the scene moments after the explosion. "Look – there are lots of empty seats now," he said, pointing to the collapsed ceilings and overturned chairs of the Justice Ministry where he stood.
Near the office of the Baghdad provincial governorate, Salar Saman Mohammad waded into the flooded street to try to determine whether a blackened wreck of a car with shattered windows belonged to his brother, lying wounded in hospital. A 14-year-old worker in the car with his brother at the time was also seriously wounded in the blast.
"Everybody knows it's the political parties behind this trying to gain power," he said. Mr. Mohammad, a plumber, said the brand new car had been stripped of its head lights and license plates after the explosion. "They are animals here – they don't know if the owner is dead and they are stealing," he said.
"There had to be someone with official backing behind this – how could they get through the checkpoints?" said Um Ali, standing at the edge of an impassible street. "Why are our children, our sisters still being killed? For 20 years we've been fighting," she said.
---