To defend against Iran missiles, US and Israel conduct joint exercises
Amid high international tensions over Iran's nuclear program, the US and Israel are engaged in three weeks of virtual wargames aboard the USS Higgins, a missile-defense warship.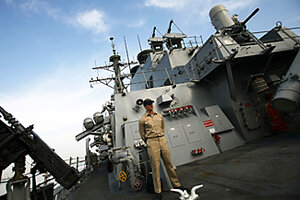 Atef Safadi/Reuters
The USS Higgins, a warship fitted with the US Navy's most sophisticated missile-defense system, is docked so nonchalantly between the comely cruise ships and workaday shipping vessels of the Haifa port that one could hardly tell it's in the throes of the largest-ever joint military exercises of their kind.
The exercises between the US and Israel have been held annually since 2001, but testing Israel's ability to defend itself from a missile attack has seldom seemed this urgent.
Western nations are on edge after last week's inconclusive nuclear talks with Tehran, which has upped the ante in recent months with numerous missile tests. Israel, too, has increased its saber rattling toward Iran, repeatedly making clear that a military option for containing Tehran's nuclear ambitions remains on the table. Any attack by Israel would probably result in Iranian (and Hizbullah) missiles fired at Israel.
While it's widely assumed that Israel would not attack Iran without at least tacit US approval, any military engagement between the two enemies would put significant pressure on Washington to back up its ally. Amid intensified international concern over a possible Iranian missile strike, the joint US-Israel exercises offer a window onto how effectively the two allies would be able to defend against such an attack.
---